Registration of overseas companies
Global overseas registration
Based in Hong Kong, it provides a supporting system for business registration and fiscal & taxation consulting services for more than 30 countries and regions around the world.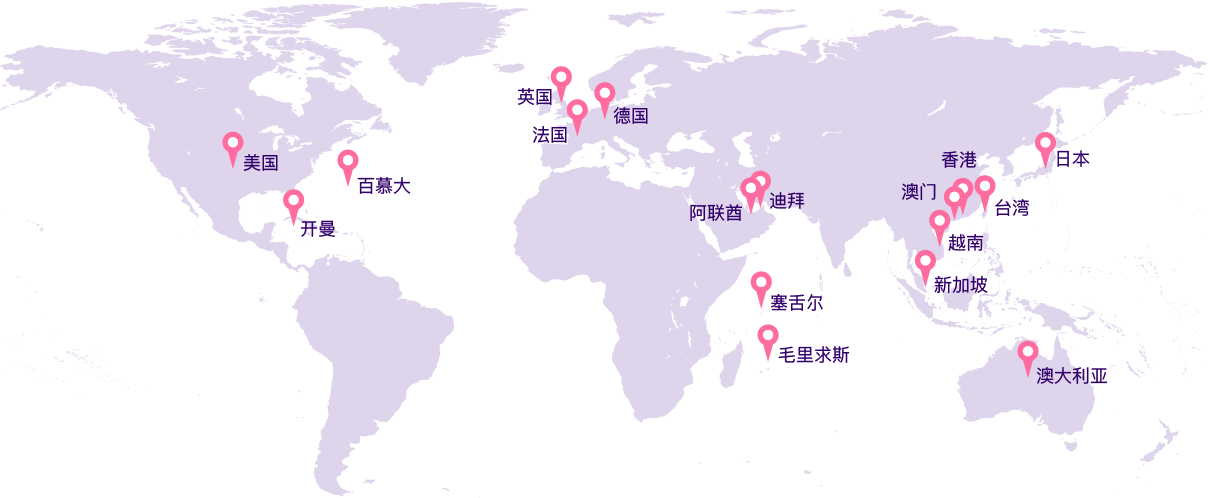 Popular countries/regions
How to choose a suitable overseas company registration place
Generally speaking, political and economic stability, sound infrastructure, sound legal system, strong banking services, simple tax system, and low tax rate are the basic conditions for selection. Most famous overseas registered jurisdictions in the world meet these conditions, such as Hong Kong, the United States, the United Arab Emirates, Britain, and Cayman Islands, etc. An overseas company registration place needs to be selected according to the needs of the person or company. Choosing the most suitable overseas company for international trade or investment is somewhat difficult. Seek guidance of professionals from the WTEC, through a comprehensive comparison of the advantages and disadvantages of each registration place, and then analyze the needs and actual conditions of the enterprise or individual, and choose the right overseas company registration place.

The role of overseas company
Enjoy preferential tax system

Some overseas companies, such as Hong Kong, Singapore, the United States, the United Arab Emirates, and other company registration places have preferential tax policies, which can reduce company operating costs.

IPO financing

It is relatively easy to register an overseas offshore company and then to raise funds and go public overseas in the name of the company.

Improve corporate image

Creating an international brand image is conducive to expanding market share and increasing product credibility.

Facilitate international trade

Export products to developed countries through overseas companies to avoid trade barriers, discrimination, and restrictions.

Simple company establishment

The registration procedure of an offshore company is very simple, without the need for the registrant to visit the place of registration by himself.

Registration Process
A.

Free consultation

Consultants answer questions and customize solutions

B.

Sign the agreement

Sign the agreement and get invoice for payment

C.

Information submission

Document preparation, submit application

D.

Successful registration

Certificate materials, sent by SF Express

Value-added services
Annual audit and
tax return of overseas company
account opening company
Company change /
cancellation of

verseas immigration